Education
Guild Workshops and Program 2017-2018
Welcome back to another exciting year in the Regina Stitchery Guild.  Canada turned 150 years old and the Regina Stitchery Guild turns 40.  These are two wonderful events to celebrate. This year workshops and program will celebrate these two amazing events.
At each monthly meeting, excluding December and June, there will be a surprise guest speaker and a corresponding stitching activity.  Bring a basic sewing kit and a 4″ embroidery hoop to each meeting.
Also part of the monthly program we encourage everyone to stitch Artist Trading Cards [ATC]. Artist Trading cards are small pieces of art 2.5 by 3.5 inches, about the size of a hockey trading card that can be traded at each meeting if you like.  These cards are being made to include in Martha Cole's up coming workshops. Be sure to check back in the weeks and months ahead for more details about Martha Cole's classes.  More information about the ATC  program is is available at a Guild meeting.
Martha Cole is a Saskatchewan fibre artist. Martha Cole will be facilitating workshops for the Regina Stitchery Guild.   To get more information about Martha Cole visit her website at marthacole.ca 
March 24, 2018 – Play Day – open studio time at the Neil Balkwill, no instructor. $10.00
April 7, 2018 – The "X" Accordian Book –
1 day class with Martha Cole. This book is officially termed a Stiff Leaf Book and has many variations.  It is particularly versatile as an accordion structure which can present artworks or images in an X configuration or as a traditional accordion.  Mat board is used to create separate framed windows for each part of the accordion which are attached to each other with visible hinges giving the structure its flexibility. The stiffness also allows for the book to be a wide range of sizes, offering even more options. The class will be at the Neil Balkwill Civic Arts Centre. $60 for members, $75 for non-members.  To register email Leann – the5cliffords@accesscomm.com
April 8, 2018 – Stumpwork Poppies Galore -taught by Darlene Clifford.  This exciting class  1/2 day class [1-4:30 pm] will explore the 3D application of stump-work to create a beautiful needle-woven poppy with leaves and a bud.  Techniques taught include: couching, padding, and needle-weaving.  $35 for RSG members, $50 for non- members.  To register contact Leann – the5cliffords@accesscomm.com
Drummed Covers and Accordion Variations – Martha Cole – March 3, 2018
The Accordion Book is a versatile book structure originating in Japan.  It consists of long strips of paper which are folded into "accordion" pleats and glued between two covered book boards.  In this class you will learn 3 different methods of attaching fabric based and/or stitched works to the covers. First, the traditional method , then a padded cover which is "drummed on" so that the stitching itself is not glued down or damaged.  The 3rd method will incorporate a window frame in which small raised works can be inserted using more contemporary iron-on adhesives.  You will also be given instructions for several variations of this easy and elegant book.  This class is $50.00 for members and $65.00 for non members with a $10.00 material fee.
 i
Odds and Sods – Martha Cole – January 12, 13, and 14, 2018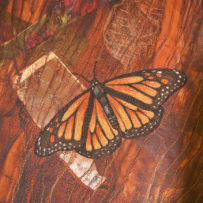 Have you ever asked yourself the question "What can I do with all this stuff?" One answer is to create original collages which are reflective of you as well as renewing and repurposing various stitched works from the past, either unfinished or old personal works or heirlooms.  It is the nature of collage to simply "work with what you have" so that is where this class will start.  In the first evening session Martha will offer some guidelines about how to choose what to use and you will start gathering and unifying your various materials.  Over the next 2 days she will lead you through a set of exercises each giving a different approach that you can use to integrate items into interesting and successful works of art.  The session will conclude with a discussion of finishing and mounting ideas.
This class is open to the public but preference will be given to Guild members.  The class is $75.00 for members and $90.00 for non members.  For more information or to register for the class please send an email to mail@reginastitcheryguild.ca  
---
Guild Program Speakers
September 12, 2017 – Bill Quick
Bill Quick talked about his wife Elsie May Quick who was well known in Regina stitching circles for her expertise stitching and teaching hardanger.  Elsie May passed away in April 2015.  Elsie May's greatest passion was to reclaim and rejuvenate the nearly dying art of hardanger cutwork embroidery.  Her students numbered in the thousands and were from all over North America.  Her work was featured in the Norwegian American Museum in Decorah, Iowa.  Elsie May was an enthusiastic volunteer and was awarded the YWCA Woman of Distinction Award for Lifetime Achievement in 2001.
October 10, 2017 – Anna Marie Winter
In 1977 Anna Marie was looking for a way to interact with people who loved needlework as much as she did and so the idea of a local organization for stitchers to learn from each other and other qualified instructors was born.  In 1977 the Regina Stitchery Guild was formed.  The first meeting was held in her home.  6 ladies joined her for that first meeting.  Anna Marie shared  the history of the guild from that humble beginning to where the Guild is today.  There have been many milestones along the way
1978  – Regina Stitchery Guild became Chapter members of the Embroiderers' Association of Canada.
1982 –  the Guild moved to its present location in the newly opened Neil Balkwill Civic Arts Center.
1983 –  the Guild hosted "Under Prairie Skies" the EAC national seminar.
1987 – for the 10th anniversary of the guild the Antique Lace and Conservation Project was established at Government House to conserve a set of lace collars from the Patterson Collection.
1987 – the first Victorian Market was held at Government House to raise money for the conservation project.  This event was an annual event for 20 years.
1993 – Wee Care Program was started.  This community project continues to this day and was established through the hospitals of Regina to provide gowns for babies who die at birth.
2002 – Guild hosted the 2nd EAC National Seminar
In the early 90's Anna Marie started designing using Kreinik embroidery threads. Through her work with Kreinik she traveled to trade shows across Canada, the US and Europe where she show cased her designs and demonstrated techniques using silk and metallic threads.
November 2017 – Beth Andrews
Beth's history with the Regina Stitchery Guild began in the 70's.  After taking an adult class taught by Eleanor Podl, who was a great promoter of the Guild, she started with cross stitch and joined the Guild.  Her fondest memories of the Guild were the fun times at the week-end stitch retreats and the June dinners.  She was also so impressed by the extremely knowledgeable and talented teachers who taught workshops for the Guild. Her favorite form of stitching is canvas work. Beth has not been an active member of the Guild for a few years but she continues to stitch.  Her current passion is making bears  [which she sells], quilting and sewing.
February 2018 – Carol Storie
Carol became a member of the Regina Stitchery Guild after moving to Regina in the mid 80's.  Other than Brownies which she found very frustrating, Carol was not exposed to needlework until she was 25 years old. At a craft sale in  Brandon she saw petit point jewelry and asked if she could learn how to do it.  So her first real exposure to needlework was 40 count petit point jewelry.  After moving to Regina in 1985 Carl attended a few Friday morning stitch-ins before she joined the Guild. Over the years she has taken many EAC correspondence courses and made many friends along the way.  Through her exposure to many talented designers and teachers Carol took up the challenge and started designing her own patterns. The Regina Stitchery Guild gave her the opportunity to participate in design challenges and to teach when the  Guild  hosted the national EAC Seminar in 2002 and 2010.  Carol's designs were chosen as the fundraisers for these Seminars. Carol became involved at the national level as well serving on the Board of Directors as Youth Embroiderer Director for 6 years and she is currently teaching a group Correspondence Course – Canvas Candy Bowl.