Events
Monthly Meetings
Meetings are held on the 2nd Tuesday of each month from September to May, 7:00 PM at the Neil Balkwill Civic Arts Centre 2420 Elphinstone Street. Meeting dates for 2018/19  are:
September 11, 2018
October 9, 2018
November 13, 2018
Christmas Social will be held Monday December 10, 2018 at the  Regina Conservatory from 7-8:30
January 8, 2019
February 12, 2019
March 12, 2019
April 9, 2019
May 14, 2019
June 23, 2019 -Annual General Meeting will be a tea at Government House. The tea will take place from 2-4 pm.  Tickets are $20.00.
Government House
The Regina Stitchery Guild in partnership with Government House will be making items for 'Care Kits' to send to Canadian Armed Forces personnel at Christmas. Government House is making a 4 year commitment to this project and is planning to prepare 30 kits this year. If you would like to participate consider making a small item like a Christmas decoration, a postcard with a message, scarves, mitts or any small  item that will remind them of home.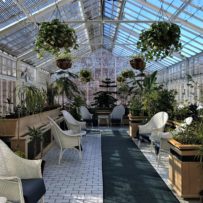 Sunday afternoons starting May 12 to October 20 join members of the Regina Stitchery Guild in the Government House Conservatory  to work on stitching projects.  Everyone is welcome to stop in to work on their own project.  Government House is located at 4607 Dewdney Avenue just 3 blocks west of Lewvan Drive.
The Regina Stitchery Guild will be presenting stitching workshps from 1:30 – 3 pm at Government House on the following dates:
Sunday May 26, 2019 – Victorian Tea Towel
Sunday June 16, 2019 – Jocko's Diary
Saturday July 27, 2019 – Victorian Blocks
Saturday September 28, 2019 – Cross Stitch Advises
Saturday October 26, 2019 – Crochet Magic
Friday morning Stitch and Chat
Join members of the Guild Friday mornings at the Neil Balkwill Civic Art Centre for coffee and stitching.  No stitching experience required, just bring anything you would like to work on, or just come for the fellowship.
---
Links
Share information about your favorite embroidery arts resources with Guild members by emailing your recommendations to mail@reginastitcheryguild.ca.